Record Review: Randy - Randy The Band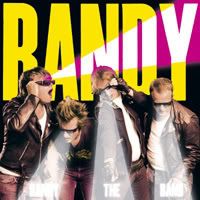 Randy's
music is rooted in 70's punk rock, without ever lapsing into irrelevant revivalism or aping their progenitors. Their tongue-in-cheek, fists-in-the-air bravado is fun and infectious and is never in danger of turning off those in the audience without the predilection for smashing the fucking state.
Some purists might charge Randy with being gentrified punk rock. A focus on anthemic gang vocals, simple power chords and thumbing noses at authority are all hallmarks of early punk bands that also exist in Randy's music. Much like NOFX, the Briefs, Bouncing Souls and Snuff, their polished production and emphasis on melody differentiates them from their precursors.
While I don't think Randy mean to belittle or parody their forefathers, it's equally difficult to take their hat tips seriously or find them disagreeable. Lyrics like 'we're doin' all that we can, stickin' it to the man' capture the essence of punk and perform it with enough skill and gusto to make you forget they don't belong to the first wave.
To describe Randy as neo-70s punk is a pretty broad pigeon hole to place them in. This is because it's difficult to pin down a concise set of references. On 'Evil', Stefan Granberg croons in with a distinctively Danzig-like intonation. 'Promise' and 'Bahnhof Zoo' are sharp power-pop numbers that evoke comparisons to Stiff Little Fingers, Undertones and the Buzzcocks. 'Teenage Tiger' is a balls-to-the-wall rockabilly number. On 'Losing My Mind' Granberg's vocals waver like that of the Dead Kennedy's Jello Biafra.
Three thumbs up.
Make Up Your Own Mind:
Razorblade
I Raise My Fist