Record Review: Marked Men - Fix My Brain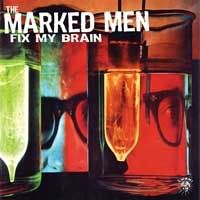 The Marked Men's third long player 'Fix My Brain' is by and away their most memorable and best to date. Because their music never was marked with much variation, by mere virtue of the fact that most of the songs are instantly memorable makes 'Fix My Brain' stand above their previous efforts.
The first two Marked Men records earnt them gushing reviews and a fervent fan base. Deservedly so, their brand of power pop via Rip Off Records was both novel and fun. And they don't disappoint on 'Fix My Brain'. 'A Little Time', 'Wait Here, Wait For You', 'Fix My Brain' and 'Sophisticate' are the kind of jangly garage punk anthems that earned them their legions.
'Fix My Brain' also features more variety than on 'Marked Men' and 'On The Outside'. 'Sully My Name' is as close the Marked Men will ever come to writing a ballad. Jeff Burke nasally croons like a gruff Lou Reed or Chris Bailey over a rattling guitar tone. 'Sophisticate' is uncannily reminiscent of the bass-heavy, hyped-up Kinks punk sound Green Day captured on 'Warning'. 'Someday', 'You Said Enough' and 'Don't Look At Me' are jittery garage punk that exude anxiety and provide a brief respite before they launch into one of the numerous ball-tearers that litter the album.
Four Thumbs Up