Record Review: NOFX - Never Trust A Hippy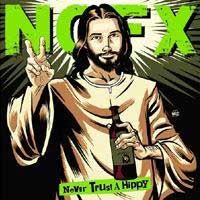 You know what to expect from this review before you even read it. NOFX are certified punk rock legends. One of the most influential and popular punk rock bands of the last 20 years, NOFX's sound is defined and renowned, and on Never Trust A Hippy – a preview of their forthcoming long player – they make no attempts to err from the established formula.
The EP is predominantly slick pop punk numbers. On Golden Boys, Everything In Moderation (Especially With Moderation) and I'm Going To Hell From This One, the guitars are as buzzsaw as ever, the guitar solos are just as ubiquitous and Fat Mike is still stickin' it to the man with all the leftist slogans he can muster. They even throw in an obligatory dub number – Marxist Brothers.
Even the themes seam familiar. While NOFX were always political and controversial, sacred cows seem to be nonexistent on 'Never Trust A Hippy'. On the lone acoustic number, You're Wrong, Fat Mike gets up on his soap box and proselytizes like a particularly dogmatic and arrogant prick. Even by his standards. But I get the feeling antagonism is their goal here.
Three thumbs up.
Make up your own mind:
Seeing Double At The Triple Rock